Welcome from Suzie, Kim and Bob to OzTales E-zine
Hi and Welcome to the February edition of Oz Tales.

In case you hadn't noticed over the past month or so we have added at least ten new pages to the website and a number of new videos also.

The new pages cover such topics as

Australian Food

Supermarket Wars

Australian Culture

Australian Convicts

Australian Humour

Australian Values

We've also done pages on

Ned Kelly

The Kimberleys

The Gold Coast

Queensland Theme Parks

Marlin Fishing

And we've added more to the Australian koala page and a great video of a koala taking a drink from our backyard swimming pool.



Other new videos include Oprah Winfrey in Australia - You can find that on our YouTube channel.

Australian Culture - that's on our Culture Page and our YouTube channel.

And Australian Food - What Do Australians Eat? - You can find that on our Food Page and our YouTube channel.

And that's just the start. We have plans to create many more pages of interest about Australia and our way of life in this big beautiful sunburnt country.

If you have any suggestions for pages or there is something specific you would like to see us include as we expand the website, please just let us know via the website or through our Facebook page or on Twitter.

You can follow us on.....
YouTube
Twitter
and
Facebook

---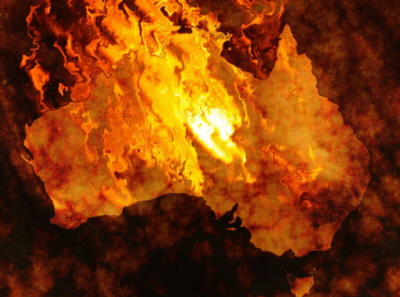 We Love a Sunburnt Country....... But Seriously, Enough is Enough!!
Australia has just experienced (and is experiencing) a scorcher of a summer with records falling over in all parts of the country.
In Western Australia, the town that has the record for being the hottest place in Australia, Marble Bar, earlier this month recorded a day of over 49 degrees Celsius (that's equivalent to 120 degrees Fahrenheit). Strewth that's hot!
Most of Central Australia has been in the grip of a searing heatwave since the beginning of the year with night-time temperatures hovering around the mid 20's and then quickly climbing as soon as the sun begins to rise.
They hit the high 30's by mid-morning, soaring well into the 40's by lunch.
There's little escape from the stinging heat, especially if you work outside on a cattle station.
At Curtin Springs, a cattle station and roadhouse, which is about 100km east of Uluru (Ayers Rock), the locals say they've been in survival mode. Its climbed well into the 40's every day; it was 45.6 on 10th of January and 45 degrees the very next day with no relief in sight.
The days are hot, long and dusty and over at the roadhouse bar, even the air conditioner can no longer cope; It packs it in around lunchtime every day.
Outside the extreme heat vaporises the petrol in the underground tanks and the bowsers have to be switched off during the hottest part of the day.
According to the Weather Bureau the weather pattern over inland Australia has lifted average temperatures to new levels and had the Bureau adding new colours to its weather pattern charts, deep purple.
In Oodnadatta in northern South Australia temperatures averaged 45.3 for the first eleven days of the year with three days recording more than 48 degrees.
But it's not just hot inland. Even on the coastal fringes, Australia's cities have also watched records fall as high temperatures are recorded and people swelter in the record heat.
Sydney sweltered too on the 18th of January with the hottest temperature ever recorded for the beautiful Harbour City it was 46.5 degrees.....Wow that's hot for Sydney!
This hot weather brings with it the danger of bushfires and already this year homes and properties have been destroyed.
The worst hit was Tasmania where a firestorm without comparison devastated three communities and terrorised others, destroying or severely damaging 200 homes and creating thousands of refugees.
Watching the survivors being interviewed on our nightly TV news, many are traumatised and in shock as they come to terms with the fact that they have lost absolutely everything they own.
And as if the bushfires aren't enough now floods have, once again, hit Queensland and northern New South Wales.
It was only 2 years ago that Queensland went through a devastating flood where three quarters of Queensland was declared a disaster zone and so many people lost their lives.
As with the the floods two years ago other areas have also been hit with severe flooding.
I think for most of us it is absolutely unbelievable that this has happened so soon again.
Australia is indeed a beautiful country but at times it can be very cruel.
"Everybody Talks About the Weather, But Nobody Does Anything About It".
The above quote is generally attributed to Mark Twain and I was reminded of it a few days ago when I heard that an outback pub in northern New South Wales had erected a sign saying "The Next Person Mentioning the Weather Has to Shout for The Bar!"
That means if you say anything about the weather you have to buy a drink for every person in the bar at that time. Could be quite an expensive exercise!
But we Aussies love to discuss the weather. It's a great conversation starter and you would swear that every year when summer comes around, we've never seen it hot before.
"Hot enough for ya"? is the favourite greeting all during summer.
We live on the edge of a desert..... isn't it supposed to be hot? In fact I'd say the definition of summer is 'hot weather for about 90 days in a row and then its autumn or fall'!
I particularly like TV commentators who get so excited when they warn us "tomorrow is going to be hot, so wear light clothing, drink lots of water and seek shade". Are they kidding? Am I really going to put on a heavy coat and walk off into the desert without a hat or any water when it's going to be 40 degrees? Do they really think people are stupid?
They even have experts as special guests come into the studio to advise people to keep cool and turn on the air conditioning. Jeez!!
I'm sure people who live in places like Marble Bar (hottest place in Australia), must feel like throwing something at the TV screen when a reporter comes on camera, dressed in a suit coat and in an air conditioned studio, and waffles on about how hot it is in Perth.
Anyway, enough about the weather, I promise not to mention it until the next newsletter!
Australia's Top Secret Holiday Spots
Australia's Airline Qantas, through its accommodation booking website 'Hooroo' has been running a national competition to find Australia's favourite secret holiday spots and it's turned up some real surprises!
Hooroo head of marketing, Lija Wilson said travellers are now looking for more authentic experiences and wanted to know where the locals went. "This was really about tapping into that and asking locals and people who are passionate about areas that they love to holiday to share them" she said.
More than 500 nominations were received via Facebook from people around Australia and nearly 2000 people voted on the 40 finalists, which were then voted on by a panel of judges.
Coming in at number one was Waterfall Gully in South Australia. Only 5km from the Adelaide CBD in the foothills of the Mount Lofty Ranges, the site is a popular picnic spot for locals but most tourists don't know it's there. In winter it features a spectacular waterfall and there's a nice restaurant at the falls. We live just a short distance from Waterfall Gully and while it is quite a beautiful location, I would never have thought that it was the number one secret holiday spot in Australia.

I guess that just goes to show that you never really appreciate what's in your own backyard.

It was followed by Fish Rock Cave in South West Rocks in New South Wales; a cave 24m below the sea level has some of the best scuba diving in the country with wobbegong and grey nurse sharks, manta rays, turtles and thousands of tropical fish.

Another waterfall, Secret Falls near Hobart in Tasmania, came third with the tranquillity of Tumby Bay on South Australia's Eyre Peninsula in fourth spot, while at number five it was the turquoise water and white sand of Little Beach, near Albany in Western Australia.
Talk Show Queen Ellen Degeneres to Follow in Oprah's Footsteps to Australia
In a carbon copy move of Oprah, Ellen Degeneres is flying the whole audience of her show to Australia.
The 13-time Emmy Award winner announced the visit during an episode of her show 'Ellen' as she chatted with Australian film favourite Nicole Kidman.
The announcement had all the hallmarks of Winfrey's announcement with Ellen's audience screaming when the host told them they too would be flown to Australia.
Tourism Australia says it is not directly involved in the promotion as it was with Oprah's visit, but state bodies Tourism Victoria and Destination NSW were partnering with Australian vitamin company Swisse.
It will be Ellen's first visit to Australia despite being the long-time partner of Australian actress Portia de Rossi.
And Finally.......
Good luck to the three Aussie film stars who have been nominated for an Oscar in this year's Academy Awards in Hollywood.
The much admired Hugh Jackman, who we feel has a reasonable chance, is in the best actor category for his performance as Jean Valjean in 'Les Miserables'. Hugh is also nominated for best original song from the film 'Suddenly'.
Jacki Weaver is up for best supporting actress in 'Silver Lining' in which she stars with long time Hollywood star Robert De Niro while Naomi Watts has received a nomination in the best actress category for her role in the Tsunami disaster drama 'The Impossible'.
Catch you next E-zine.......
Cheers from
Australian Tales