Australian Culture
What Makes Aussies Tick
Australia is a unique country and the Australian culture has grown from its isolation, a convict past, the original Aboriginal inhabitants, the Anzac legend and a large immigration program after world war 2, which has made it one of the greatest multicultural nations in the world.
We are essentially a Western culture with a democratic system of government mainly based on the British Westminster system.
English is the main language and Christianity is the dominant religion. That's not surprising when you consider that the British colonised Australia in 1788 when the first wave of convicts arrived.
To some nations that may be a somewhat shameful beginning but it probably encapsulates the Australian spirit, our nation was born to house the scoundrels, larrikins and 'ne'er do wells' from the other side of the world and we're bloody proud of it mate!
(A warning to Aboriginal and Torres Strait Islander people: This page, video and website may contain images of people who have since passed away. There is no disrespect intended.)
Our first national hero was Ned Kelly, an Irish immigrant turned bushranger who was victimised by the law and stood up to fight for what was rightfully his. They hanged him in the end but to this day he is idolised as a symbol of the little bloke taking on the establishment, a 'little Aussie battler' up against the bureaucracy.
The Aboriginal culture and people had been in Australia for 50,000 years prior to the arrival of the first convict ships. It is one thing we're not too proud of, the way successive generations have treated the original inhabitants of this country. Even today our indigenous population is still way behind when it comes to medical care, education and career opportunities.
After starting out as a group of individual convict colonies, each with their elected parliaments (except for South Australia which started out, and remained, a free colony), Australia declared Federation in 1901, became a nation and began to develop a growing sense of national identity.
Strangely, one of the greatest influences on Australian culture has been war. It's strange because as a nation, except for a number of bombing raids on Darwin by the Japanese in World War 2, we have never been invaded or fought a war on our own shores.
Yet the incredible bravery and valour shown by Australian soldiers on the various battlefields of the world has created a legend of immense courage under fire, dependable, honest and a soldier willing to die for King or Queen and Country.
There are many who believe that Australia Day should be celebrated on Anzac Day (April 25th) when we commemorate the landing of the first Australian soldiers at Gallipoli in 1915 in World War 1.
They believe it draws the line of when Australia became a real nation and changed forever its sense of individuality.
Australian culture was influenced greatly after the second war when Australia opened the doors and embarked on a massive immigration program; 6.5 million Migrants from 200 nations flowed into our country and brought immense new diversity, and at the same time we became increasingly aware of our proximity to Asia.
Since Federation we had maintained a 'White Australia' policy, preferring to accept migrants from European and Western nations but beginning in 1949 these policies were progressively dismantled and today we have become one of the most multicultural nations on Earth.
Egalitarianism, informality and an irreverent sense of humour characterize Australian culture. Well, that's how we like to see ourselves!
Most people today are aware of Crocodile Dundee; a movie character that we like to think embodies the real Aussie. Played by actor Paul Hogan, who himself embodies the real Aussie; he follows in the tradition of Bazza McKenzie, Dame Edna Everage and right back through time probably to the Jolly Swagman of Waltzing Matilda fame and some of the heroes and characters of C J Dennis.
We're mad about sport, and it forms a major part of Australian culture, particularly when it comes to spectating, but also in participation.
Cricket is the major sport in summer and Australian rules football in winter. In some states (New South Wales and Queensland), rugby league is the predominant footy code and soccer is gaining popularity all the time. Rugby union also has a strong following.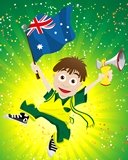 Hell, let's be honest here, if it's sport, we love it!
Our sporting successes at elite levels in events such as the Olympic Games, Commonwealth Games, World Cup competitions in cricket, rugby union, rugby league, hockey, netball, and major tournaments in tennis, golf, surfing, and other sports are a source of great pride in Australia.
Leading sportspeople such as cricket's Don Bradman, swimming stars Dawn Fraser and Ian Thorpe, athletes like Cathy Freeman, tennis legends such as Rod Laver, all world champions, last in the cultural memory of Australia for decades and are heroes, given high civilian honours and held in great esteem by the general public.
In the arts, Australians have made it on the world stage also in many areas such as opera with Dame Joan Sutherland, literature with Patrick White, visual arts, cinema and music and more.
Australian culture includes our food culture which has changed over time with the large influx of migrants after WW2. Until then our cuisine was mainly influenced by our convict past and was mainly British but with the influx of Europeans and Asians we have now embraced a wide range of cuisines with Mediterranean and Asian influences.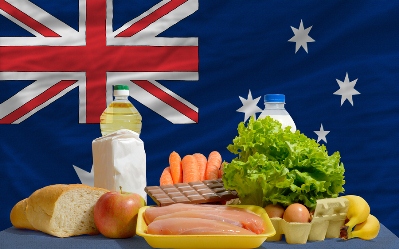 Australia's abundant natural resources mean we have a large variety of quality foods from which to choose including high grade quality meat like chicken, beef, lamb and pork.
The Australian barby or barbecue is considered a national tradition (not necessarily with a shrimp though). The great majority of Australians live close to the sea and Australian seafood restaurants have been listed among the world's best.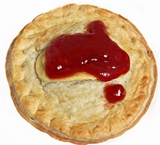 We don't really have a national dish, although some people would argue for the meat pie and tomato sauce, others would say the Pavlova, while still others would nominate Vegemite, a well-known spread that only an Aussie will eat and enjoy.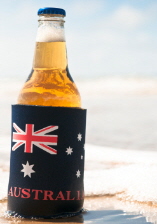 Beer would still be our most popular alcoholic beverage with wine coming a close second.
The Barossa Valley in South Australia produces Penfold's Grange which has been recognised as one of the greatest red wines ever produced, but we also make a great range of whites and reds which are becoming increasingly popular.
So, how do you describe Australian culture?
It's almost impossible in the short space we have here.
Why not visit us soon and discover the real Australian culture for yourself.
For More Information Click On The Links Below
Australian values include mateship and loyalty, freedom of speech, the press and religion, tolerance and a fair go for everyone.
Australia is a pretty unique country and Australian humour is unusual and unique too. That could well be because we are very distinctive in many ways.
A brief histroy and overview on Australian convicts who were sent to Australia to help solve the problems of the overcrowded prisons in England and to expand the British Empire.
All about Ned Kelly - law breaker, bushranger and cold-blooded killer but for a large percentage of ordinary Australians he's become an icon and a true Aussie folk legend. Was he a villain or a hero? We'll let you decide!
Our Mother was a city girl that ended up being an Australian bush woman, and like all the women who went to the live in the remoteness and loneliness of the outback of Australia she was a special breed.