Australia Facts
Everything You Need To Know
The Australia facts section is where we share general information and facts about Australia.
Australia is a modern multi-cultural nation filled with spectacular scenery, vast open spaces, rich vibrant cities and wonderful unique people.
For whatever reason you've found yourself on this page, whether you're doing a school project and you need to find out some great Australia facts, or you just want to refresh your memory about our big brown land or maybe you're coming for an exciting visit downunder and you want to know more about it before you do, you've come to the right place.
We're going to try and cover everything we think you would want to know about Australia.
Everything from Australia geography, our Australia Government, to the Australia population and much more.
But we'll also have a look at some of the more unusual and interesting facts about Australia and the fun facts about Australia too.
Short and sharp Australia Facts:
Australia is located in the Southern Hemisphere between the Indian and Pacific ocean
Covers an area of nearly 7.7 million square kilometres
Is the 6th largest country in the world
Is the only nation to govern an entire continent
Is officially called the Commonwealth of Australia
Located in The Australian Capital Territory, our capital city is Canberra with a population of approximately 320,000
The largest city in Australia is Sydney in the state of New South Wales with a population of approximately 4,284,000
We are famous for our landmark buildings including the Sydney Opera House, and the Sydney Harbour Bridge.
More Detailed Facts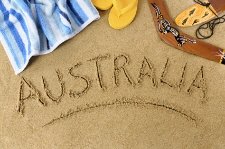 For more detailed information on Australia or to just browse please click on the links below to go the different sections and we hope you enjoy.
In the Australia Government section you will find the facts about our government system including the type of government in Australia.
The Australian Parliament House page covers the Old & New Australian Parliament Houses.
Australian currency/Australian money is all about our currency including images and descriptions of our notes and coins.
The Australia population section covers interesting information about the people such as life expectancy, literacy levels and more.
Australia geography is all about the unique landscapes that are Australia including our deserts and our external territories.
On the Natural Wonders of the World page is a list of some of the most unique and amazing wonders that can be seen in Australia.
The Interesting facts about Australia section is where you will find some of the other unusual and interesting facts about Australia.
The fun facts about Australia page is for a laugh and covers some of those amusing things that make us Australians who we are.
The Australian Symbols section covers the formal symbols that are used to represent our Nation.
On the Animal Emblems page you will discover the emblems that each state uses to represent itself.
And if you want to know which of our magnificent birds represent each of the states then take a peek over at the Australian Bird Emblems page.