Australia Tourism
Our Picks For The Top 10
Australian Tourist Attractions
What do you think are the top 10 Australian Tourist Attractions?
Here at Australian Tales we've put together a list and an Australia Tourism video to show you in glorious colour of what we believe they are. So if you're planning to travel to Australia anytime soon or maybe you just want to have a look and see if you agree, check it out.
Of course opinions may vary about the best places to visit and the best Australian Tourist Attractions, but after much research, soul searching and having personally visited each one at some stage, we believe these are the top 10 best places to see if you're visiting Australia.
A warning though, if you want to see them all, you'll have to travel all over the country and it's a big country!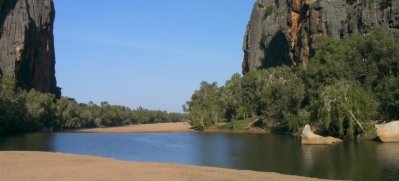 At number 10: The Kimberleys, Western Australia
An un-paralleled Australia Tourism destination with its ancient, steep-sided mountain ranges and spectacular rugged gorges, steep ridges, breathtaking waterfalls and bottomless shimmering lakes. For things to see and do in the Kimberleys click here.



Coming in at number 9: The Barossa Valley , South Australia
Is a must see for all wine lovers when travelling to Australia; the major wine producing area of our nation and home to some of the most wonderful wines including the world famous Penfolds Grange Hermitage red wine. For more on the Barossa Valley click here.



At number 8: Gold Coast South Eastern Queensland
With its beautiful surfing beaches, amazing canals and waterway systems, perfect weather all year round and exciting nightlife make it a mecca for tourists and an awesome Australia Tourist Attraction! To see our picks for things to do on the Gold Coast click here.



While at number 7: Kakadu National Park
Located in The Northern Territory is renowned for the richness of its Aboriginal cultural sites. There are more than 5000 recorded art sites illustrating Aboriginal culture over a period of 20,000 thousand years.



On to number 6: The Great Ocean Road.
An Australian National Heritage listed 243-kilometre stretch of road along the south-eastern coast of Victoria. As far as Australia tourism and scenery goes this is some of the most amazing you will ever see.



Number 5: Uluru-Kata Tjuta National Park
A World Heritage Living Cultural Landscape, sometimes called 'the very heart of Australia' lies in southern Northern Territory. One of Australia's most recognizable natural landmarks, an aboriginal sacred site and definitely a top Australian tourist attraction. Feel the ancient spirit in this special place when visiting Australia. To see our picks on the best things to do while you visiting Uluru-Kata Tjuta National Park click here.



At number 4: The city of Melbourne, Victoria.
Our second largest city and often referred to as the 'cultural capital of Australia' and the garden city. It's also renowned for its love of sport, shopping and fine food restaurants.



So to number 3: The whole island state of Tasmania.
Tassie, as it's called, is promoted as the natural state, owing to its large and relatively unspoiled natural environment. Almost 37% of Tasmania lies in reserves, national parks and World Heritage Sites.



Coming in at number 2: The Great Barrier Reef.
Australia Tourism doesn't get much better than this; one of the most recognized natural wonders of the world. It's the world's largest reef system with over 2,900 individual reefs and 900 islands stretching for over 344,000 square kilometres and is clearly visible from space. It's a must see Australian Tourist Attraction. For our picks of the top things to do on The Great Barrier Reef Australia click here.



And at number one: Sydney and its harbour.
Australia's largest city with arguably the most stunning harbor anywhere in the world with the Sydney Harbor Bridge and the iconic sails of the Sydney Opera House. On a beautiful clear day that scene will literally take your breath away. To see our picks for Sydney Tourism click here.
So, there you have it, when you travel to Australia, these are, in our opinion the top ten Australian tourist attractions, and if you're planning a trip down under you should try to include at least some of them in your itinerary.