Australian Parliament House
The Old & The New
The Australian Parliament House is located in the Australian Capital City of Canberra.
Before the Australian Capital of Canberra was established parliament meetings were held in Melbourne from 1901 to 1927.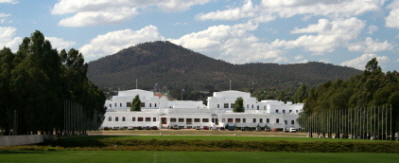 Old Parliament House became the Australian Parliament House when it opened in 1927 as a temporary base following the relocation of Parliament from Melbourne. It served as the home of Federal Parliament until 1988.
Old Parliament House was built between Capital Hill and Lake Burley Griffin to allow space for a permanent Parliament House to be built at the lakeside.
Today the Old Parliament House is home to the Museum of Australian Democracy and is a living museum of social and politically history.
Old Parliament House was included in the National Heritage List on 20 June 2006.

New Parliament House in Canberra was opened by Queen Elizabeth II in 1988 as part of the bicentennial celebration of Australia.
The amazing building sits on Capital Hill and with the huge flag mast on top it is a distinctive landmark which has become an icon of Canberra.
Much of the building is buried beneath Capital Hill but when seen from above, the design is in the shape of two boomerangs enclosed within a circle. It is constructed into the top of the hill with the roof grassed over.
The Australia Government announced the international design competition for the new parliament house in Canberra in 1979. The winning design was announced in June 1980 and was submitted by New York based architects Mitchell, Giurgola and Thorp.
The New Parliament House building is 300 metres long and 300 metres wide with the Parliament House site covering 32 Hectares of Capital Hill.
The building cost approximately 1.1 billion dollars with Australian materials used in 90 percent of the building.
New Parliament House is situated in-line with Old Parliament House, the Australian War Memorial and Mt. Ainslie in the area known as the Parliamentary Triangle, the other end of which is The Australian War Memorial.