Australian Desserts & Cakes
Favourite Aussie Sweet Treats
We love our Australian desserts & cakes and because we are such a multi-cultural society we have dessert and cakes from all over the world.
Like ice-cream, chocolate pudding, sticky date pudding, chocolate cake, chocolate mousse, caramel slice, pineapple upside down cake, trifle, all sorts of puddings and cakes.... well you get the picture and I'm getting carried away here and hungry so enough of that!
Even though a lot of the favourites sweet treats we eat are from other places there are a few uniquely Australian desserts too; or are they?
We thought we'd just give you a brief history of three of our favourites and the mystery surrounding their beginnings and you can decide.
Lamingtons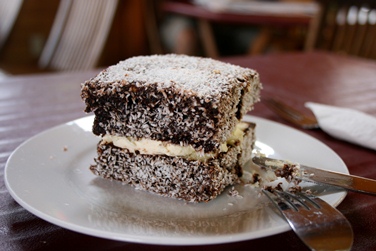 Now lamingtons are a favourite in Australia, either as an Australian dessert or just as a cake with a cuppa.
Along with some other favourites it rates right up there as a sweet treat that we in Australia enjoy.
The history of how lamingtons evolved is a bit debatable and quite interesting really.
Having done some research and remembering from my childhood, there are different stories of how the cake came about and whichever is the correct story will probably remain a bit of a mystery, but what fun to debate the real origin of the sweet!
One thing I think we can be sure of the dessert was in some way related to Lord Lamington who was the Governor of Queensland from 1896 to 1901.
It is reported however that Lord Lamington was believed to have disliked the dessert cakes that had been named in his honour, referring to them as "those bloody poufy woolly biscuits".
And so onto the stories of how the humble and delicious Lamington was born.
So to the first story: Apparently The French born chef to the Governor, Gallad, was asked to produce food when unexpected guests arrived during the Federation celebrations in 1901. He found left over vanilla sponge cake and to freshen it up dropped it in chocolate and smothered it in coconut.
The second story says that the lamington was first served to the Governor and his guests when Governor Lamington and his entourage left the hot steamy weather in Brisbane to go to Toowoomba to try and escape the heat.
And finally the third and quite interesting tale is that Gallad accidently dropped the sponge cake into a dish of chocolate. It was later sprinkled with coconut to make it look more appealing.
Coconut was not widely used in those days but Gallad's wife was from Tahiti so he was aware of the appeal of it and how it was used in a variety of ways.
It was reported that Lady Lamington's guest enjoyed the cake so much they requested the recipe.
I don't think it really matters which story is correct because the basics are the same; the French chef to the Governor, Armand Gallad, created the cakes for Governor Lamington and guests at some stage and the Australian dessert eventually got the name it has today the humble Lamington. Delicious!
Get the Lamingtons recipe from our Australian Recipes page.
Peach Melba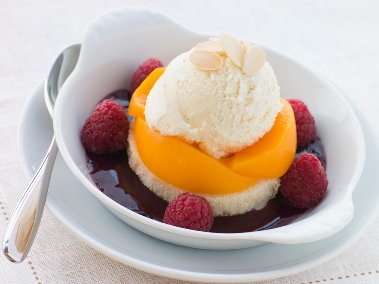 Peach Melba is a world famous dessert and whilst not originally developed in Australia we tend to claim it as one of our Australian desserts because, after all, it was made in honour of Dame Nellie Melba (our first famous Opera Star).
Dame Nellie Melba was playing at Convent Gardens (London) when she met the legendary French Chef Escoffier.
Dame Nellie often graced the restaurants run by the chef after her performances at Convent Gardens. It was apparently when she was staying at the Savoy Hotel and he was the chef that he first produced the sweet dessert in her honour.
It consisted of extremely sweet peaches with vanilla ice cream and was first served to Dame Nellie in a silver dish on top of a carved iced swan. He originally called the dessert Pecheau Cygne, or 'peach with a swan'.
A few years later when the famous French chef opened the Ritz Carlton in London he changed the dish slightly by adding sweetened raspberry puree which he drizzled over the top and the named it Pêche Melba or Peach Melba in her honour.
Escoffier was a great fan of our Dame and thus was borne the famous 'Peach Melba' and as the saying goes the rest is history.
Another wonderful Australian dessert.
Get the Peach Melba Recipe and try it for yourself.
Pavlova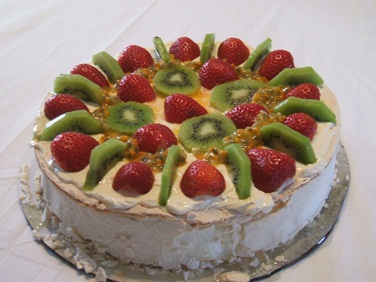 Now one of the most famous Australian desserts has definitely got to be the Pavlova.
But the Aussie pavlova also has a very interesting history and its origin is up for debate, between us and our neighbours, the New Zealanders.
They claim it as their dessert and we claim it as ours!
However, no one really knows who created the first Pavlova.
We do know that the dessert was named in honour of the Russian Prima Donna Anna Matveyevna Pavlova who toured both Australia and New Zealand in 1926 and revisited Australia again in 1929.
She was considered to be the greatest ballerina of her time and the as such a great artist, so the Pavlova was created in her honour.
According to the New Zealanders a chef at the hotel Wellington created the dish when Pavlova visited in 1926 and he was inspired by her tutu, draped in green silk and cabbage roses.
He fashioned the meringue case to represent the tutu and net was the whipped cream. The green silk rose's effect was created using the kiwifruit fruit.
Now that is their story but ours is just as valid.
Chef Bert Sachse from Perth's hotel Esplanade says the dish was originally created by him for afternoon teas. According to legend the Pavlova was named after the famous ballerina as the dessert was 'as light as Pavlova'.
Bert Sachse commented to a magazine interviewer that he improved a meringue cake recipe that he found in another magazine in 1935. Of course this is debated by our neighbours.
We claim it as our own and they claim it as theirs. It is a national dish to both countries!
we think the controversy just adds to the flavour.
Gotta love the pavlova! As far as Australian desserts go this is one of my favourites.
Get a couple of great Aussie Pavlova Recipes.
As mentioned at the beginning of the page there are many other desserts & cakes we enjoy in Australia that have become favourites with us but we can't actually claim them to be ours..... we still eat them, of course, but we can't claim them.