Get Into The Sun & Surf At Our
Wonderful Australian Beaches
We have put together what we think are the Australian beaches that you will love, so if you enjoy the sea, surf and sand these are some of the very best we have to offer.
Australian beaches are all unique in their own special way and each one of them has something different to offer.
Whilst we have not listed them in any particular order we know as you read about what each one has to offer you will find one, two or more that will be your ideal place to sun, surf and play on your holiday in the best Aussie way.
And we also know there will be people that have found their own personal favourite Aussie beach that may not be included here.
There are literally hundreds of awesome beaches in Australia but we decided to choose only ten because we couldn't include them all unless we wanted this page to go on forever.
We hope you enjoy our choices.
Bondi Beach
Bondi Beach is an Australian icon that's famous the entire world over for what is has to offer and a definite destination when you visit Sydney. It's about one kilometre long and about 7km east of the centre of Sydney.
Bondi receives many visitors throughout the year; and the life savers are certainly worth a peek-a-boo.
Numerous festivals and events such as the annual Miss Bondi beauty pageant have made Bondi Beach a popular destination among travellers both local and from overseas.
Bondi Beach is probably the most famous of our Australian Beaches.
Bells Beach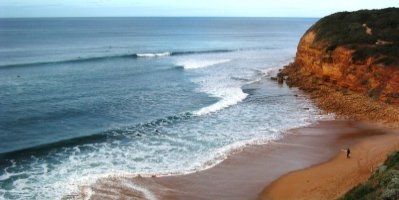 If you are a pro surfer or just a casual board in the water type, a visit to Bells Beach has to be on your list of Australian Beaches to visit.
It is the home to the longest running surfing competition in the world and its fame and awesome spirit will live in your heart forever; making you to want to come back time and time again.
Each Easter since 1961 surfers, pro and none-pro, have gathered their boards and gear and headed the 100km south west of Melbourne Victoria, down the Great Ocean Road to the mecca of surfing and home of the Rip Curl Pro Surf & Music Festival.
Why don't you grab your board and join them!
Cable Beach
Cable Beach is an amazing 22 kilometres stretch of beach near Broome in North West Western Australia.
It was named after the telegraph cable laid between Broome and Java in 1889.
You can take a camel ride along the shores or take a pleasure cruise on an old pearling lugger and watch the blazing sun set over the beautiful Indian Ocean.
As far as Australian Beaches go Cable Beach really is one of the most stunning, not only in Australia but in the world.
Byron Bay
Byron Bay is a beachside town located in the far north western corner in New South Wales.
The town has several beaches which are popular for surfing. It is a resort popular with both domestic and international tourists, including backpackers, who travel along the Australian coast, and the scenery also attracts sky divers.
The area is noted for its wildlife; with whale watching being another popular visitor attraction.
Just chill out and lie on the white sands of Byron Bay or do a track through the rainforests that surround the most easterly point of the Australian continent.
Four Mile Beach
Four Mile Beach is another beauty when it comes to perfect Australian Beaches.
Nestled along one of Australia's most scenic coastal routes. It is the long stretch of sandy beach that runs past the popular coastal town of Port Douglas in Far North Queensland.
It's a tropical paradise, with calm azure waters lapping against the sand and palm trees lining the beach.
There is wide a range of beach and waterfront accommodation in Port Douglas, including luxury resorts, villas and apartments and many shops, restaurants and friendly bars nearby.
The Gold Coast
Now if you want play and play hard at the beach, there is no greater place than The Gold Coast; 57 kilometres or 35 miles of stunning coastline with some of the most popular surf breaks in Australia and the world.
Including Surfers Paradise, Broadbeach, Main Beach, Mermaid Beach and Nobby Beach, and that's just to mention a few of the beautiful Australian Beaches on the Gold Coast.
Right nearby is Duranbah Beach, one of the world's best known surfing beaches which is often thought of as being part of Gold Coast City, but is actually just across the New South Wales state border.
The Gold Coast is Australia's holiday playground, a stunning and beautiful city with a year round holiday atmosphere.
Hyams Beach
Hyams Beach is a small seaside village in the Shoalhaven in New South Wales on the shores of Jervis Bay.
The village, about a 3 hour drive south of Sydney, is in fact bordered by 3 beaches, Chinaman's Beach, Hyams Beach and Seaman's Beach. Hyams Beach is the middle beach in the centre of the village.
The surrounding area is a delightful place for a family holiday with plenty of things to fill your days.
It is one of the most beautiful Australian Beaches and famous for having the whitest sand in the world.
Manly Beach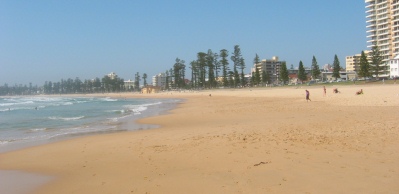 Manly Beach is a beach situated in Sydney's northern beaches area.
Being an inner city beach there are many shops, restaurants, night clubs, and bars nearby.
Take a stroll along the Corso, a pedestrian plaza and one of Manly's main streets for shopping and dining which runs from the ferry wharf and harbor beach; rub shoulders with some of the locals.
At Manly Beach you can swim, parasail, snorkel, windsurf, kayak, scuba dive and surf. The palm-tree finishes the picture of that perfect time in your life.
Many visitors love to catch the Manly Ferry to Circular Quay in the heart of Sydney, a trip which takes about 30 minutes.
Cottesloe Beach
Cottesloe is an historic beach close to Perth and is the birthplace of surf life saving and surfing in Western Australia.
It's a protected beach that's popular with families; there are some great restaurants and cafes nearby.
Swimming, surfing or just lazing in the sun are all favourite pastimes.
So if you're visiting the capital of Western Australia don't forget to put a visit to Cottesloe on the list.
Monkey Mia
Monkey Mia is a popular tourist resort located about 800 km north of Perth, Western Australia.
The main attraction, in which you can share, is the daily feeding of the bottlenose dolphins that have been coming close to shore for more than forty years.
Conservation Rangers carefully supervise the process but you'll be able to get up close and personal as they swim in the crystal clear shallows of the beach.
For nature lovers you will delight at the huge variety of animal and bird life found nearby as well.
Ninety Mile Beach

Image By Ken Stepnell; Courtesy Of Tourism Victoria
As the name suggests The Ninety Mile Beach is a sandy stretch of south-eastern coastline of Victoria along the Gippsland Lakes region.
The beach is just over 151 kilometres or 94 miles long running north-eastward from the spit near Port Albert to the man-made channel at Lakes Entrance.
The beach is made up of long sandy dunes which separate the various lakes and lagoons from the ocean.
The beach is a white sand beach, with crashing waves and a natural bush environment.
It is the ideal spot for all the boating fishing and sailing you could ever wish for.
And there you have it our picks for some of the most spectacular Australian Beaches
So grab your towel and your gear and catch some rays at one or more of these awesome Aussie beaches.
Don't forget your sunscreen and your hat though!