Everything You Need To Know About
An Australian Travel Visa
For the tourist only there are 3 different types of Australian Travel Visa which don't allow you to work or study while in Australia.
An ETA or Electronic Travel Authority (Visitor) Visa is designed for people outside Australia who want to stay for short periods of up to three months on each visit within the validity of the visa. ETAs are valid for 12 months from the date of being granted. You can apply online and there is an (AUD)$20 service fee for each ETA applicant.
You cannot extend an ETA without leaving the country.
An ETA is not designed to allow repeated extended stays in Australia. If you want to spend long periods here for tourism purposes, or family reasons you might have to consider applying for a Tourist Visa or an alternate visa that suits your purposes.
You may qualify to apply for another type of visa called the eVisitor.
The eVisitor allows you to travel to Australia for short term business or tourism purposes for up to three months. eVisitor applications are free and are available to passport holders from the European Union and a number of other European countries.
Alternatively there's the Australian Tourist Visa which allows you to visit Australia for a stay of three, six or 12 months.
The cost of a Tourist Visa can vary depending from which country the application is made.
Now, if you're planning a working holiday you will need a 417 Visa which will allow you to work and earn money as you travel around the country.
BUT.....there are some conditions associated with a 417 Visa including that it's only available to citizens of eligible countries including;
Belgium
Canada
Cyprus (Republic of)
Denmark
Estonia
Finland
France
Germany
Hong Kong
Ireland (Republic of)
Italy
Japan
Korea (Republic of)
Malta
Netherlands
Norway
Sweden
Taiwan
United Kingdom
If you're applying from Chile, Malaysia, Thailand, Turkey or the United States, then you need to apply for a different visa, called the Work and Holiday Visa (462)
There are other conditions you will also need to meet;
You must be between 18-30 years old
You must have a valid passport from your own country with at least 1 year before expiry
You can't work longer than 6 months with one employer
You must have no substantial criminal convictions or medical issues
Working must not be the main purpose of the visit
Work must be casual or temporary (not permanent)
Both the 417 Visa and the 462 Visa are usually granted in a couple of days and are valid for 12 months.
If you are over 30 and want to work in Australia, unfortunately there are very few options.
You could consider either a skilled work visa or a permanent visa.
These visas are for those who want to migrate to Australia using work. That means of course you will both live and work in the country on a permanent basis.
If you're having trouble working out which kind of Australian Travel Visa to apply for, or can't work your way through all the online paper work, why not consult an immigration expert or the Department of Foreign Affairs.
To be eligible to apply for any of the above visas you must hold an eligible passport and when you travel here you do not need Australian travel insurance, although it is highly recommended.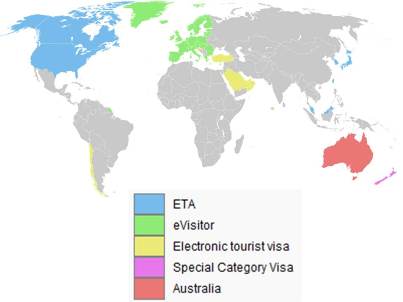 image courtesy of wikipedia
A map of states eligible for the Australian Electronic Travel Authority Visa System, both main ETA and eVisitor.

If you want more information and electronic application forms please visit the Australian Immigration Website