Barney's Pub Poem
This Pub Poem was written about 'The Family Hotel' in Tibooburra, New South Wales. Our Mother called this poem 'Barney's Pub' because at the time she wrote it Barney was the publican.
When I was a little kid we'd only drive into town about once a month because it was so far but later on we moved closer to town so we went in more often.
As a kid I remember going to Barney's Pub, we'd all pile into the Land Rover and drive into Tibooburra, it was a real treat for us to go into town and sometimes we'd get to sit next to dad in the bar and have a lemonade then we'd get told to go out and play with the other kids.
Dad would have a few 'cold ones' and once he'd had a few he'd get to singing in the bar and we'd all sneek back to sit outside and listen; the old man had a great voice too.
Barney's Pub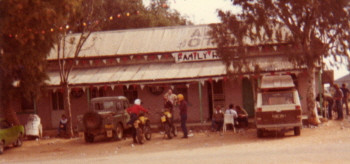 The drought it seemed would never end,
The ground was dry and hard,
The men who'd worked for weeks unending,
Stood round the empty cattle yard.
The last truck roared on down the track,
They'd got all the cattle from the scrub,
"There's nothing more to do" they said,
"Let's head for Barney's Pub."
A dusty cloud was all that marked
The way they took to town,
"Let's move along, we'll be there then
Before the sun goes down."
The road was long, the day was hot,
That was the only rub,
But the beer was cold, and friends were there,
In the bar at Barney's Pub.
With dry throats wet, and faces grave,
Their troubles they had to tell,
To friends who stood and listened,
For they knew and liked them well.
But then their mood changed once again,
To wash the dust they found a tub,
They hurried to be neat and clean,
And join the crowd, in Barney's Pub.
Stella P. Bell