Tasmanian Blue Gum
(Eucalyptus globulus)
Plant Family: Myrtaceae
The Tasmanian Blue Gum is the Floral Emblem of Tasmanian
The genus (category) Eucalyptus has about 800 species which are widely spread in Australia. It belongs to the family Myrtaceae, which is widespread in Australia and in the tropical regions of the Americas.
Found in Tasmania, on King and Flinders Islands in Bass Strait and in southern Victoria.
A tall, straight tree which grows up to 70 metres in height and can have a trunk of up to 2 metres in diameter.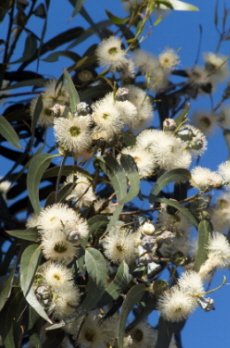 The juvenile leaves are broad and are about 6 to 15 cm long and are covered with a blue-grey, waxy bloom, which is where it gets the name "blue gum".
The mature leaves are narrow and are about 15 to 35 cm in length and a dark shining green.
The flowers are a cream colour and produce a nectar that bears a strongly flavored honey
Flowering time is normally each year in early summer.
Eucalyptus globulus was first collected on the southeast coast of Tasmania in 1792 to 1793 by Jacques-Julien Houton de Labillardiere, a French botanist on an expedition.
The Tasmanian Blue Gum was officially proclaimed the Tasmania Floral Emblem in 1962
They are protected in conservation areas and there are regulations prohibiting the taking of native flora from Crown Land and state forests without prior permission from the managing authority.
For more about the Blue Gum check out this Australian Government page.