Australian Coat of Arms
Official Symbol Of Australia
The Australian Coat of Arms is the official symbol of the Commonwealth of Australia.
King Edward VII granted the initial Coat of Arms in 1908, the current Coat of Arms was granted by King George V in 1912.
The shield contains the badge of each Australian state. In the top half from the left the states are New South Wales, Victoria and Queensland. In the bottom half from the left the states are South Australia, Western Australia and Tasmania.
Above the shield is the Commonwealth Star above a blue and gold wreath, forming the crest. Six of the points on the star represent the original six states, while the seventh point represents the combined territories and any future states of Australia.
The Red Kangaroo and the Emu that support the shield are the unofficial Animal Emblems of Australia. As neither animal can walk backwards they represent progress and an unwillingness to back down.
The background is the Golden Wattle, the National Floral Emblem.
At the bottom is a scroll that contains the name of the Nation of Australia.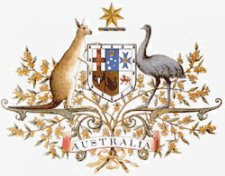 You can find out more about the Australian Coat Of Arms including history and guidelines on the use of the Commonwealth Coat of Arms from the Australian Government.