Australian Snakes
Australian Snakes include the Red-bellied Black Snake, the Brown Snake, the Tiger Snake, the Taipan and, of course, the Fierce Snake.
The Snakes in Australia are said to be the most venomous snakes in the world and because of this people fear them.
But Snakes basically just want to be left alone, they don't intentionally seek out human company.
The best advice we can give you is if you see one just leave it alone.
Like most animals they will defend themselves if they feel threatened, and the best form of defence is attack.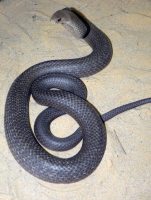 When we were kids growing up in the bush around Tibooburra New South Wales, we saw a lot of Snakes.
We gained a healthy respect for them living in the bush and our Father taught us to just let them be when we saw them.
The Taipan was thought to be the world's most venomous Snake until the discovery of it's cousin the Fierce Snake.
The Fierce Snake is said to be the most venomous Snake in the world, although there have never been any human deaths caused by this species.
The Fierce is normally about 1.8 metres in length although they can be up to 2.5 metres.
The colour of the Fierce varies from dark brown to a light brown/gold.
The Fierce Snake is found around the area where Queensland, South Australia and the Northern Territory borders meet.
The Taipan lives in the far north of Australia and down the Queensland coast, but they have been found in Western New South Wales.
Taipans are large Snakes and can be up to 3 metres in length.
The colour of the coastal Taipan is usually pale brown to dark brown in, fading to a cream colour.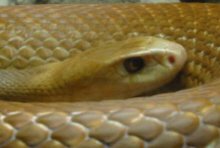 The Taipan is aggressive when hunting. The Taipan, like most venomous Snakes, uses its venom sparingly.
There are too many different Snakes in Australia for us to cover here and because we are certainly not Snake experts we decided to only present the most venomous Australian Snakes.
If you want to know more about the Snakes in Australia we suggest the Australia Zoo or the National Parks and Wildlife service