Breakfast Food In Australia
Morning Favourites & Delicious Recipes
Breakfast food in our house during my childhood in the remote outback of Australia was plentiful and varied.
Our mum believed breakfast was an important meal and set the day up for whatever was in store, whether it was our dad heading out to track the border fence or us kids sitting down to do our school work and our School of The Air Lessons; our mum was our teacher and a hard one she was!
We didn't have a lot of material things when we were little but we were blessed with usually having lots to eat and whilst things like fresh fruit and vegetables were not plentiful, meat, eggs, boxes of breakfast cereal and tinned fruit and veggies were the go.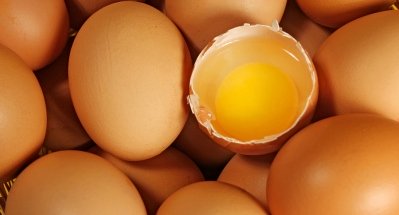 Lollies, ice cream and fizzy drinks or sodas such as lemonade and coke were an absolute treat. These items were never available in our home and therefore we were never hooked on junk food then or now.
Homemade cakes, biscuits and treats were allowed and as mum became quite a good baker of some of these, we were never deprived of the childhood goodies other kids enjoyed and we had a lot of varity of breakfast food to enjoy every morning.
When mum didn't do her home baking, there were always the delicious tins and packets of Arnott's biscuits to fill a hungry tummy between the main meals.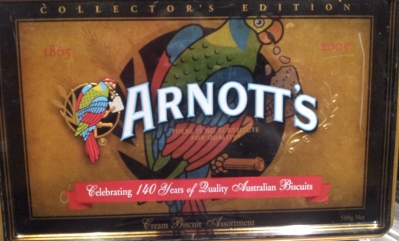 I feel very blessed to have had parents who believed in plenty of good wholesome food and bought treats like packets of chips and lollies were exactly that, special once of items to have on odd occasions when we travelled to the local township some 129 kilometres distance (80 miles).
Even though we were very isolated where we lived as kids we did have chooks and ducks and for a while there dad even had a couple of pigs.
So we had fresh eggs to enjoy and occasionally a chicken would appear on the dinner table when the chook stopped laying eggs. By then it was normally an old boiler but it never became the Sunday roast until it was past its laying days; harsh times in the bush!
We did have a period in our lives where we had a herd of goats which were milked sometimes, but by then our taste buds preferred the taste of the powered milk we'd get.
We were early risers so when the sun was up so were we and as there was six of us kids our mum had busy mornings everyday preparing, not only our breakfast food, but all the other meals for a horde of hungry mouths.
We had our favourite breakfast food and that included cereals, we would look forward to lining up to the breakfast table to have a big bowl of them most mornings.
I remember when our father first moved the family to the remote outback of Australia we didn't even have electrical power or refrigeration to keep things cold so the boxes of cereals and the fresh eggs and homemade bread were an essential part of outback living.
Our favourite breakfast cereals were Rice Bubbles, Corn flakes and the Weet-bix and we would take it in turns as to the ones we would eat.
We loved the sound of our Rice Bubbles going snap, crackle and pop which of course is the slogan from Kelloggs, the makers of the cereal.
We would eat these during the summer months with cold milk (once we had refrigeration) poured over them. The milk was normally sunshine powdered milk that mum would blend with the rainwater from the tanks that were placed around the house to catch the precious water when it rained.
We also loved our Kelloggs Corn Flakes; the golden flakes covered with a yummy golden syrup would crunch in our mouths and tasted delicious as we munched our way through bowl after bowl.
Weet-bix were also a favourite breakfast food in both summer or winter, we would heap the biscuits in our breakfast bowl and wait for mum to pour either the hot or cold milk over them.
Sometimes if we were lucky mum would include some tinned apricots, pears or peaches on top and as a really special treat we would be allowed to slice them down the middle and put butter and vegemite on them, just another enjoyable way to eat them.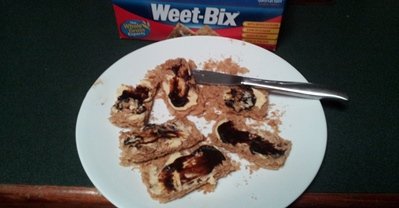 As silly as it sounds apart from the fact that the breakfast food tasted good we would eat them and fight over the little toys that were always in the boxes..... Clever marketing!
One of our favourite breakfast food during the winter months was Uncle Toby's Oats, mum would brew up the oats on the wood stove and heat up the Sunshine milk until it was bubbling and steaming hot, sometimes the bottom of the saucepan would end up burnt. A big piece of butter and brown sugar with the hot powdered milk poured over it all.... absolutely yummy!
The other breakfast food that every Aussie kid enjoys and we were amongst that bunch, is vegemite on toast..... what Aussie kid doesn't love vegemite?
Mum, after many failed attempts became a very good bread maker and the homemade bread would be sliced to make into toast in front of the wood stove.... you can check out mums first attempt at bread baking here.
The front of the stove would be opened and we would stand there with the slice of bread on a fork and toast each side. Whoever was the toaster was the last one to sample the spoils as the other kids would snatch the hot piece and spread melting butter all over it with lashings of vegemite. Even today it makes my mouth water and still one of my favourite breakfast food.
Sometimes we would have visitors and mum would cook up a real treat (the visitors were always a treat too) and we would have big slabs of fresh steak and heaps of fried eggs and again the special cooked toast.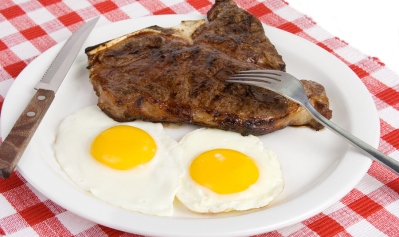 As one of the older kids it was normally my job to do the toasting so I became quite good at this chore.
The memories of my childhood and how important breakfast is to start the day has stayed with me all my adult life. Those childhood times growing up in the outback of Australia with my brothers and sister around the breakfast table are precious moments of a lifetime.
Our mum would make some great party treats from our favourite cereals too, so I thought I'd include links to some of those recipes along with some extra special things we enjoyed at our birthday parties in the outback.....
Our Favourite Breakfast Food & Some Great Recipes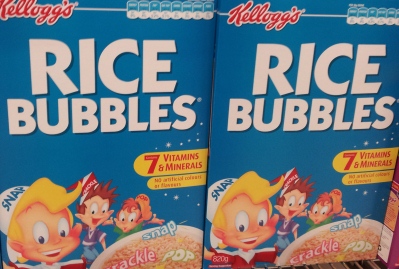 Rice Bubbles; First released in Australia in 1928 by the Kellogg company, we loved them as kids because of the taste and famous slogan 'snap crackle and pop' didn't hurt either..... I swear as I kid I could really hear them making that sound!!





Corn Flakes; a favourite brekkie cereal we loved as kids and another Kellogg special box of goodies. The cereal was first released in Australia in 1924 and they were such a big hit they have become part of our morning cereal range ever since.





Weet-Bix; delicious little slabs of goodness that first came into being around the mid-1920s and are a Sanitarium Health Food Company product. We loved to pour hot milk over them and watch them swell as the milk soaked into them.





Uncle Toby's Oats; I believe the history of this yummy product goes way back to 1861 when they were called John Bull Oats. The rolled oats have been around here in Australia for a long time and have made many kids happy and with a full and healthy tummy to start the day.





Vegemite; we were certainly happy little vegemite's, and as most Aussie kids do we loved our toast and vegemite. This is such an iconic food product in Australia it has its own special page on our website check it out if you haven't already.
And a couple of favourites Fairy Breads for kids parties....
All these delicious recipes are from Taste.Com.Au and bring back a lot of wonderful memories but most of all they are lots of fun to make and eat.....
Why not try them for yourself!