Droving Cattle In The Outback
Cattle droving was a big part of outback life when our mum first went to the bush but as the years went on the road trains took over.
But the legend of these crusty blokes and the mobs of cattle lives on in songs, stories and poems that are enjoyed by people everywhere.
Mum loved to write poetry about the Australian bush and the things she saw and experienced while she lived there.
And if you're looking to get off the beaten track a bit or you just want an unusual holiday experience these days there are many places where you can go on your own adventure with the cattle in the outback of Australia.
The Drovers
I've seen the mobs of cattle,
And drovers on the track,
And the heat and dust and flies,
On the plains in the outback
I've been there when at sundown,
The campfires have been lit,
And sit around them talking,
As drovers like to sit.
I've heard the night watch singing
As he rides around the mob
I know it gives him pleasure
It isn't just a job
I've shared their damper with them,
And mugs of billy tea,
I've listened to their stories
Of how life used to be.
They tell of many changes
That they've seen come and go,
They tell that droving's had its day,
And they should really know.
The stock trains are replacing
These hard and wiry men,
The days of tea and damper
Will never come again
I'm glad that I have been there,
And know how it was when
Droving cattle was the business
Of these, now forgotten, men.
Stella P. Bell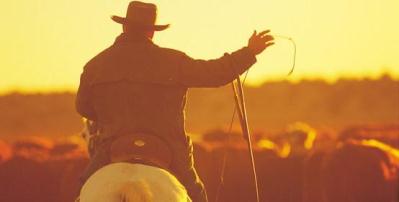 Image Courtesy Of Outback Encounter - Adelaide