Sturts Desert Rose
(Gossypium sturtianum)
Plant Family: Malvaceae
The Sturts Desert Rose is the Northern Territory Floral Emblem.
The genus (category) Gossypium also includes cotton.
The Desert Rose has been known as the Darling River Rose, Cotton Rosebush and Australian Cotton.
Found in the Northern Territory and all mainland states of Australia, except Victoria.
The Desert Rose is found on stony slopes and in dry creek beds.
The Rose is a woody compact shrub about a metre in height, the leaves are dark green.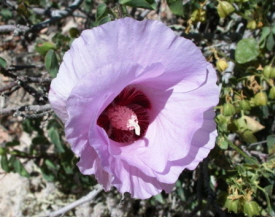 photo from wikipedia.com under
GNU Free Documentation License
The petals are about 5 cm long and can range from pale pink to dark purple and have a dark red centre.
There is a small cotton spore in the centre of the flower
Flowering time is not exactly seasonal but peaks around late wintertime.
The rose is very tolerant in times of drought and grows well in areas with low rainfall.
The Rose was first collected by Captain Charles Sturt during his trip to central Australia in 1844 to 1845.
The Sturts Desert Rose was officially proclaimed the Northern Territory Floral Emblem in 1961
They are not believed to be at risk in the wild.
Get more information about the Northern Territory Floral Emblem from this Australian Government page.