Unusual Holidays In Australia
Unusual Places To Visit Downunder
OK, so you're planning to travel to Australia; Why not try one of our suggestions for unusual holidays in Australia and experience something completely different
Of course there's the usual top tourist attractions you can visit; Sydney Harbour, Great Barrier Reef, Queensland's Gold Coast and so on.
You can check out our picks for the top ten Australian tourist attractions on that page.
But, if you're looking for something really Australian, something totally different, something off the beaten track, the likes of which you can't experience in any other part of the world, you've come to the right place.
We've put together a list of some unusual holidays in Australia, in no particular order, for you to have a think about.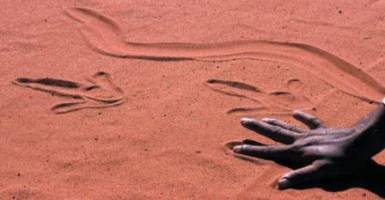 Image Courtesy Of Tourism NT
Aboriginal Art and Culture at the Top End.
You'll need special permission to visit Arnhem Land, but it's definitely worth it. 97,000 square kilometres of indigenous homelands and that includes Kakadu National Park. Some of the oldest known rock and bark paintings, some dating back tens of thousands of years and it's also where the didgeridoo originated.





Image Courtesy Of Desert Cave Hotel - Coober Pedy



Stay in an underground hotel at Cooper Pedy.
This is home to the world famous Opal Fields, and in summer it can get up to nearly 50 degrees Celsius before lunch. No problem. Do what the locals do, stay underground, they in their underground homes, you in the underground hotel.





Image Courtesy Of Outback Encounter - Adelaide



Join a cattle drive in the great Australian outback.
Well, you'll need to be fairly fit to take this on. Grab your swag and join the stockmen as they round up the cattle in the annual cattle drive on a property that could be as big as some European countries....Don't get lost though, you may never be seen again!





Image Courtesy Of Wikipedia Under
The GNU Free Documentation License



Watch the Croc's being fed & feed the wildlife at Australia Zoo.
Home of the crocodile hunter. Get up close and personal with deadly Aussie snakes, cuddle a koala, but never smile at the crocodile..... Especially when these huge beasts are being fed. Australia Zoo offers a truly unusual adventure of experiencing our unique animals and all in one place.





Image Courtesy Of The Birdsville Race Club



A day at the Birdsville Races.
Fancy a day at the races? Thing is this is probably a race that will live in your memory forever, Birdsville is an outback town in Queensland where once every year all the people from the bush... for thousands of miles around, dress up in their best clobber and head into town for the races.... oh, and for a few beers!
Now as far as unusual holidays go a day at the Birdsville Races is right up there.






See Lake Eyre when it's full.
It doesn't always have water in it but when it does, and when it's full; it can stretch for thousands of miles or kilometres. And suddenly the outback is teeming with all sorts of wildlife, with thousands of birds drawn by huge schools of tens of thousands of fish, and yet 6 months ago it was desert.






And finally camp by a billabong.
Australia's much loved unofficial national anthem 'Waltzing Matilda' tells the yarn of a jolly swagman camped by a billabong with a stolen jumbuck in his tuckerbag. Never mind if you don't understand what all of that means, trust us that it's a very Aussie thing to take a dip in a billabong on a very hot day.... just make sure there are no crocs in the water.
So, there you have it, our suggestions for some unusual holidays down under.
All uniquely Australian of course and certainly way off the beaten track.