White Tailed Black Cockatoo
Baudin's Cockatoo & Carnaby's Black Cockatoo
There are two species of White Tailed Black Cockatoo

The Long Billed or Baudin's Black Cockatoo and the Short Billed or Carnaby's Black Cockatoo.
Carnaby's Black Cockatoo is now on the endangered species list.
They measure around 55 to 60 centimetres in length, they are brown/black with white tail panels and white cheek patches.
They feed on a variety of plant species including eucalyptus, banksias and grevilleas.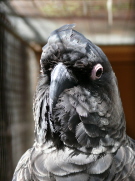 They form large flocks when it isn't the breeding season.
Breeding time is usually August to December.
One to two eggs are laid which the female incubates for 28 to 29 days.
The White Tailed Black Cockatoo is found only in the southwest of Western Australia.
They are found outside their breeding season in farmland, orchards and open woodlands.