Yellow Tailed Black Cockatoo
Funereal Cockatoo Or Yellow Eared Black Cockatoo
The Yellow Tailed Black Cockatoo is another one of our beautiful Australian birds.
Also known as Funereal Cockatoo or Yellow Eared Black Cockatoo.
They are a large Cockatoo, measuring 55 to 65 centimetres in length with a pale yellow edge to their feathers, yellow tail panels and a yellow patch behind their eyes.
They feed on seeds of native trees, especially She-Oak but also Eucalyptus, Acacia and Banksia.
They can form large noisy flocks but are usually seen in pairs or in small flocks.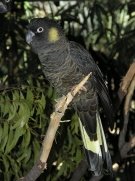 Breeding time is dependant on where they live but normally in the north it is March to August and in the south between July and January.
There is normally one to two eggs laid but it is usual for only one chick to survive, the female incubates the eggs for about 29 days while the male feeds her.
They are native to the southeast of Australia, and normally found in coastal areas, eucalyptus woodlands, pine plantations, orchards and farmland.