South Australia
Gateway To The Aussie Outback And Home To The Festival City Of Adelaide
I live in South Australia and I love it here, it's a beautiful part of Australia and quite often gets overlooked but, for me, it is quite simply a lovely state to live in.
We moved here when I was 12 and so I went to high school here and did a lot of my growing up here; I've moved all over Australia but I keep coming home to Adelaide.
When my family decided to move here from Tibooburra in New South Wales I thought my world was going to end! I was a bush kid and I wanted to stay one.
I'd only ever been to the city once in my life; I'd only seen television a few times (no TV where I came from in those days) and I'd never seen the beach (imagine that an Aussie kid of 12 and I'd never seen the beach!) So I gave my parents a hard time about moving. My mother said to just give it a go and maybe I would like it in Adelaide and she was right.
I've had my wandering shoes on a lot in my life and travelled all over this big beautiful land but I keep coming back because even though I was born in New South Wales and I've lived in other states SA has always been home.
My sister, apart from traveling interstate or overseas, has made Adelaide her home for many years; we live around the corner from each other now and spend a lot of our time together, sisters and best friends.
Our video on South Australia is packed full of all the state information.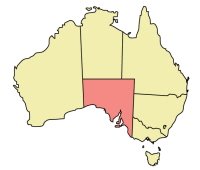 map from wikipedia under
GNU Free Documentation License
Abbreviated as SA.
The Capital of SA is Adelaide.
SA was the only one of the Australian states to never receive convicts.
The first settlers arrived in November 1836 and the colony of SA was proclaimed on December 28th 1836.
South Australia is the 5th most populated of the Australian states with about 1,584,500 people living there but this has less than 10% of Australia's population. The majority of people live in the Capital City of Adelaide.
In comparison to other Australian states like New South Wales, Victoria and Queensland, the regional centres are quite small with Mount Gambier (in the south east, half way between Adelaide and Melbourne) being the 2nd City in population after Adelaide with about 25,000 people living there.
More than any other state, SA's economy relies on exports and the economic growth of SA has been lagging behind the rest of Australia for some time.
The manufacturing industry in SA is very important and consists of automotive and component manufacturing, defence technology, electronic systems and pharmaceuticals.
Adelaide is the Capital of SA and is Australia's 5th largest city, situated at the mouth of the Torrens River and at the base of the Mount Lofty Ranges.
Adelaide is sometimes called the "City of Churches" and some of the spectacular church buildings (such as St Peters Cathedral) are well worth seeing.
Although not as well known for its tourist attractions as some of the other states in Australia, SA still has a variety of stunning landscapes, fascinating experiences and open spaces waiting to be discovered. From the Barossa Valley with its beautiful wines, the wildlife, bushland and beaches of Kangaroo Island, the Flinders Ranges and wide outback to the relaxed atmosphere of Adelaide, SA is the casual, friendly state.
Click on the link if you want to check out the South Australia Climate
The football played in South Australia is Aussie Rules, we did briefly have a Rugby Team for awhile but I don't think they did any good!
A person from SA is called a South Australian.
The colloquial term for a South Australian is a crow eater; There are a couple of different versions given for this name but essentially some early settlers (from different places depending on the version) were short of other meat or food in general so they caught and cooked some crows, so now we all get called croweaters!
The State Flag for SA was adopted in 1904. It shows the Union Jack and the SA State badge.
Queen Elizabeth II granted the present Coat of Arms of SA in 1984.
The SA motto is "South Australia"
Slogan for SA: Festival State or The Wine State
Floral Emblem of SA: Sturts Desert Pea
Animal Emblem of SA: Hairy-nosed Wombat
Bird Emblem of SA: White-backed Magpie